Giving New Books to Kids and Families that Need Books
We have given away 21,902 new books since March 2021
Book Book Go
Book Bus Visits
December: 889 books
December 2, 2021
235 – Paul Laurence Dunbar Elementary School in East St. Louis, Illinois
December 12, 2021
150 – Gateway 180 Homeless Services and Little Legacies Library Project and AKA Sorority Literacy Project
December 14, 2021
85 – Humboldt School SLPS
December 21, 2021
184 – Sycamore Hills Apartments Desoto, MO (Horizon Housing Foundation)
December 20, 2021
85 – Arch Community Elementary School
December 22, 2021
150 – St. Louis City Fire Department – Community Holiday Party
November: 150 books
November 3, 2021
150 – Herbert Hoover Boys and Girls Club, Ferguson MO
October: 150 books
October 22, 2021
150 – Meachum Park Neighborhood Association/Horizons In Kirkwood- Halloween Party
September: 5,515 books
September 1, 2021
155 – Spark Steam Early Learning Academy
September 9, 2021
2500 – East St. Louis Public Library Bookmobile
September 10, 2021
315 – Sacred Heart Villa School
September 14, 2021
45 – Lemay Manor Apartments/Horizon Housing Foundation
September 24, 2021
2500 – East St. Louis Public Library Bookmobile
August: 1,330 books
August 7, 2021
400 – Saint Louis Public Schools – Back To School Streetfest Event at Gateway Elementary

225 – Bicentennial ArtFest and Ice Cream Social/ Celebration for Newly Proposed  Hodiamont Tracks Bike Trail/Great Rivers Greenway/SLACO/St Louis Arts Chamber of Commerce
August 12, 2021
350 – Horizon Housing Foundation/Sycamore Hills Townhouses/ Back-to-School Celebration/Desoto, MO
August 19, 2021
330 – WAY Center/Back to School Event at Ritenour School District, Wyland Elementary
August 21, 2021
25 – Village of Mom's – Back to School Event
July: 6,606 books
July 1, 2021
360 – Eagle Prep Summer Camp
July 6, 2021
105 – Vashon High School
July 7, 2021
45 – Kranzberg Arts Center – Jazz Fest
July 8, 2021
402 – City Academy Summer Camp

100 – Northside Community Center  Camp
July 9, 2021
240 – Gene Slay Dutchtown Camp

285 – Gene Slay Soulard Camp
July 28, 2021
4994 – Normandy Schools Collaborative
July 30, 2021
75 – Consuming Kinetics Dance Company – Summer Camp
June: 1,526 books
June 15, 2021
375 – City Academy
June 22, 2021
616 – Books for Newborns
June 29, 2021
85 – The Leadership School at St. Vincent's Community Center
June 30, 2021
450 – Northside Community School
May 1,580 books
May 5, 2021
325 – Hawthorn Leadership for Girls
May 10, 2021
355 – Katy Trail Estates
May 19, 2021
450 – Our Lady of Guadalupe Elementary School
May 20, 2021
450 – Herzog Elementary School SLPS
April 566 books
April 5, 2021
105 – Eagle Flats Apartments
April 8, 2021
160 – Ridgeway Villas Apartments
April 17, 2021
210 – Hawthorn Leadership School for Girls
April 30, 2021
91- Oak Hill Elementary SLPS
March 1,090 books
March 16, 2021
1,090 – Hamilton Elementary SLPS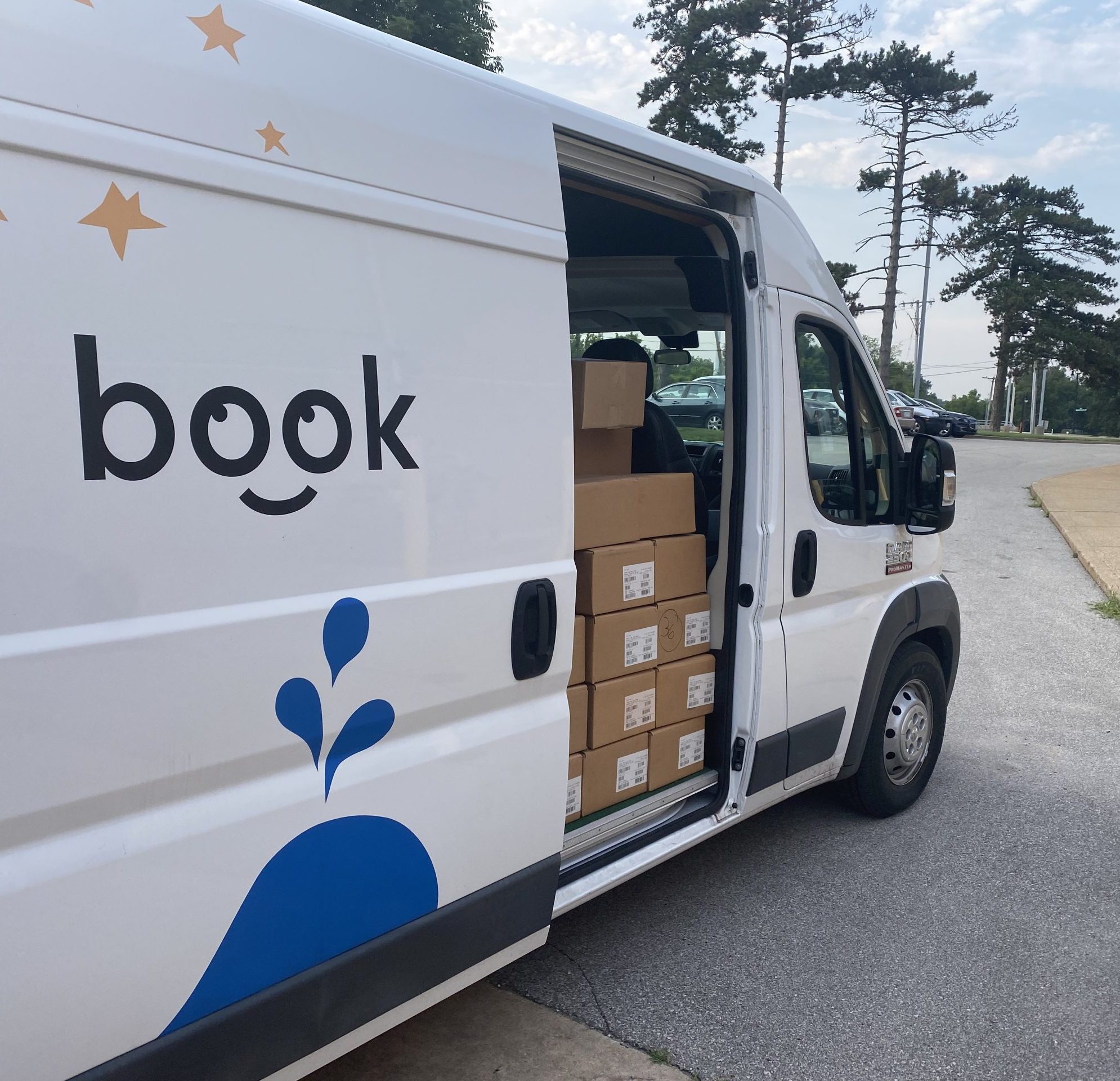 What we do
Bookmobile: Book Book Go has a Book Bus that allows families to choose books they will actually read. We take our read-aloud mission on the road with our Book Bus and travel to events. We bring new curated free books to children.
Book Book Go Storefront – The Lockwood: We have books, eclectic and vintage goods for sale at 46 West Lockwood in Webster Groves.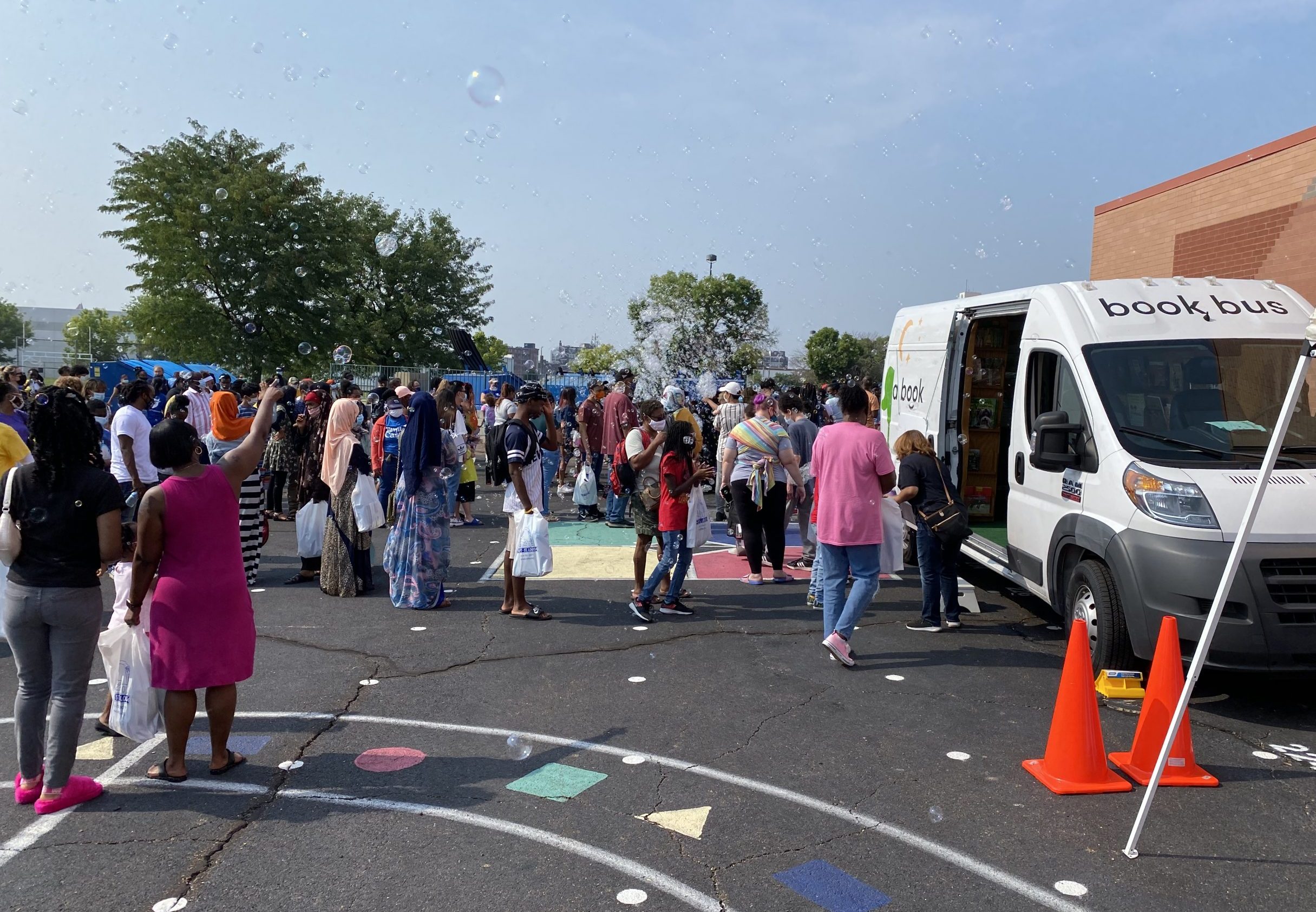 Our Story
Improving attitudes about reading at home and school
Book Book Go is a 501(c)(3) non-profit corporation that strives to improve early childhood literacy and inspire children to read every day with their families. We focus on providing award winning and new books to children in underserved neighborhoods. The books we provide spark imaginations and improve attitudes about reading in a child's early childhood years and beyond. Our mission strives to eliminate the literacy gap and encourage children to have fun reading everyday. We strive to choose books that mirror the communities we serve.
Book Bus Visits
Paul Laurence Dunbar Elementary School In East St. Louis, Illinois
Gateway 180 Homeless Services And Little Legacies Library Project And AKA Sorority Literacy Project
Humboldt School SLPS
East St. Louis Public Library Bookmobile
East St. Louis Public Library Bookmobile
Horizon Housing Foundation/Sycamore Hills Townhouses/ Back-To-School Celebration/Desoto, MO
Eagle Prep Summer Camp
City Academy Summer Camp
Gene Slay Soulard Camp
City Academy
Northside Community School
Our Lady Of Guadalupe Elementary School
Eagle Flats Apartments
Oak Hill Elementary SLPS
Naheed Chapman New American Academy
Sycamore Hills Apartments Desoto, MO (Horizon Housing Foundation)
Arch Community Elementary School
St. Louis City Fire Department – Community Holiday Party
Sacred Heart Villa School
Bicentennial ArtFest And Ice Cream Social/ Celebration For Newly Proposed  Hodiamont Tracks Bike Trail/Great Rivers Greenway/SLACO/St Louis Arts Chamber Of Commerce
WAY Center/Back To School Event At Ritenour School District, Wyland Elementary
Vashon High School
Northside Community Center  Camp
Normandy Schools Collaborative
Books For Newborns
Hawthorn Leadership For Girls
Herzog Elementary School SLPS
Ridgeway Villas Apartments
Herbert Hoover Boys And Girls Club, Ferguson MO
Meachum Park Neighborhood Association/Horizons In Kirkwood- Halloween Party
Spark Steam Early Learning Academy
Lemay Manor Apartments/Horizon Housing Foundation
Saint Louis Public Schools – Back To School Streetfest Event At Gateway Elementary
Village Of Mom's – Back To School Event
Kranzberg Arts Center – Jazz Fest
Gene Slay Dutchtown Camp
Consuming Kinetics Dance Company – Summer Camp
The Leadership School At St. Vincent's Community Center
Katy Trail Estates
Hawthorn Leadership School For Girls
Hamilton Elementary SLPS
Total number of new books given away since March 2021: 21, 902
If parents understood the huge educational benefits and intense happiness brought about by reading aloud to their children, and if every parent – and every adult caring for a child – read aloud a minimum of three stories a day to the children in their lives, we could probably wipe out illiteracy within one generation.
– Mem Fox, Author of Reading Magic